"I've now visited nearly every U.S. major national park ― 59 of the current 63 ― and all 50 U.S. states solo."
I grew up afraid of, well, pretty much everything. The dark, driving on highways, getting lost, ice on stairs in the winter, airplanes, when my parents didn't get home at the exact time they said they would ― unfortunately, that's not even scratching the surface.
As a kid and well into young adulthood, I was anxious and fearful of any number of what-ifs, always focusing on what could go wrong. But as I was nearing 30, I finally realized I needed to make changes. I had to do something brave to attempt to conquer some of my fears.
I was teaching middle school math and had a week off for spring break ― so I decided it was now or never. I set off on a solo road trip to the Grand Canyon from my home in Colorado. I spent a week driving through the Southwest solo, stopping wherever I wanted, spending days hiking alone in unfamiliar terrain, talking to strangers at cafes and browsing hole-in-the-wall shops in new places.
That trip shaped the trajectory of nearly the next decade of my life ― I had found my thing. I've spent my entire 30s traveling solo, primarily to U.S. major national parks. Along the way, I've exposed myself to new things, learned about my capabilities and dug into a well of bravery I didn't know I had ― while even creating a new career for myself.
I've now visited nearly every U.S. major national park ― 59 of the current 63 ― and all 50 U.S. states solo. After 13 years in the classroom, I transitioned from teaching middle school math into full-time content creation and freelance writing (another brave decision I never thought I'd be able to make). I am, for all intents and purposes, living my dreams.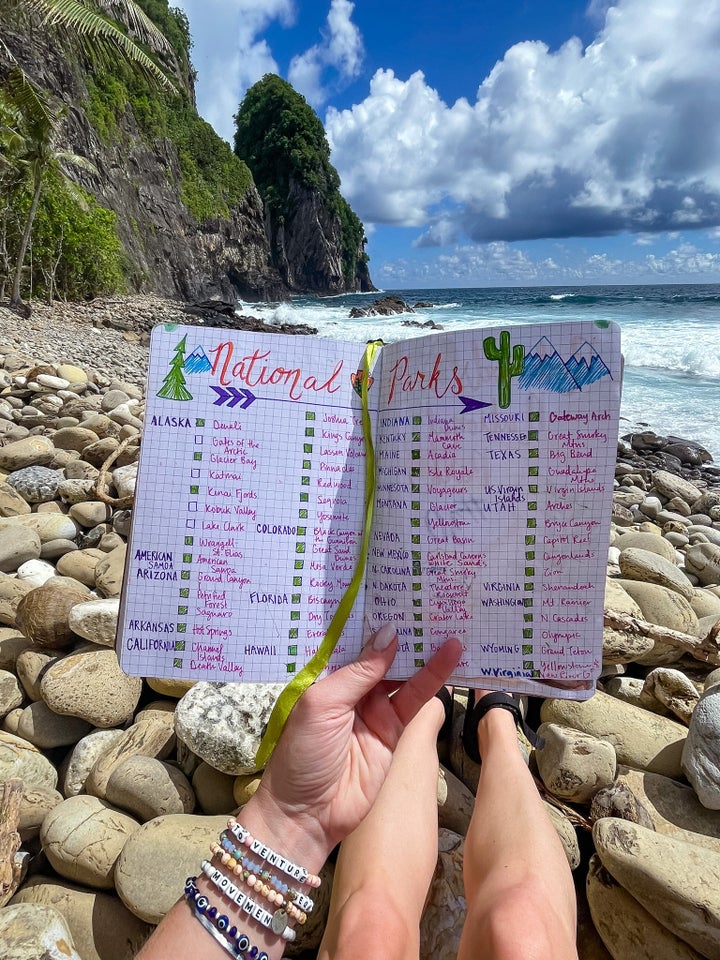 Through sharing my travel and writing online, I have grown a large community on social media and started making a significant portion of my income "travel influencing" and content creating. I've taken a lot of pride in the idea that my social media may inspire others to conquer their fears and be brave.
So it's shocking to some when I tell them my No. 1 travel rule I refuse to break: Never post on social media in real time.
Even though I am brave, capable and experienced, safety is still at the top of my mind. Once, I was driving along the Oregon Coast on a long road trip just a year or two after beginning my solo national parks quest. I admired the majesty of the waves, the jutting rocks, the incredible sunsets and the almost desolate surroundings. The cities, with quaint inns and friendly people, seemed few and far between.
I wasn't afraid to be there alone; on the contrary ― I wanted to share this experience with everyone I knew (and didn't know). So I got into my motel for the night and posted what seemed to be an innocuous photo on my Instagram story of the view of the ocean outside my room. I didn't share where I was, I didn't share any words at all ― just the moody Oregon waves crashing along the shore.
Within minutes, I had a direct message from a follower I did not know in my inbox asking me if I was at X hotel in X city, and they thought it might even be X room number. They had stayed there as well and loved it, they wrote.
Astonishingly to me at the time, they were entirely correct. I was dumbfounded. This person meant no harm, and I'm glad they shared their message; it's gratifying to connect with others in that way. But it gave me this incredible sinking feeling that if they knew ― who else did? And what if it was someone who didn't "mean no harm," who didn't "just want to connect?"
Although I've come a long way, I still have plenty of fears. While I can't control everything or guarantee nothing bad will ever happen to me, knowing I'm doing everything possible to be vigilant and prepared assuages my anxieties about all that could go wrong.
So I haven't posted any travel in real time for the last several years. I save the photos or videos until I am ― at a minimum ― not in that exact location, and then upload them later. I'm open about it to my followers, yet I still get many "while you're there" or "before you leave" comments and messages when I share a photo of a location I've long since left. But other than missing out on a message with a recommendation for a great cafe nearby, I don't see any downside to the delay.
In fact, I've only realized the many upsides ― even beyond safety.
When I first started hiking and traveling solo, I needed to keep my mind occupied and anxiety at bay. So I would mentally plan the photos I would take, the captions I would write or the filter I would use, or I'd imagine what others' reactions might be to this photo I had just taken moments before and would likely share before I stepped off the trail.
And while I have the photos to look back on, I realize now that after I took them, much of my mind was taken up by the rest of it ― and not on the moments right in front of me. I wasn't noticing the beauty around me because I was fixated on posting, and then how many people would like the post or comment on it.
I stopped posting in the moment for safety reasons, but it also freed up my mind to stop sacrificing the beauty of the now. I was mindful, maybe for the first time, and now I can confidently say I am truly present in my travels. And what a gift that is.
And an unintended benefit was that through waiting and practicing mindfulness, I could sink into the moments and have much more insightful commentary to share ― later ― on the experience than before. The moment meant more to me, which then resonated more with others when I chose to share it.
It's hard to capture that feeling in the age of social media. When everything is fleeting and a moment is only interesting for a moment ― before something better comes along. But memories don't work that way. Art doesn't work that way. They have a life beyond the moment ― a life I want to continue to remember and to make meaning from.
I don't want to live my life in fear again. I want to continue learning and growing from new solo experiences, the people I meet and the places I visit. I want to immerse myself fully while taking the precautions that help keep me safe and bring me peace.