Anna Kournikova and Enrique Iglesias met on the set of a steamy music video in 2001. Here's the truth behind their decades-long relationship.
2023 is the year of the celebrity relationship breakdown.
Hugh and Deborra-lee Jackman took steps to end their marriage, Joe Jonas filed for divorce from Sophie Turner and, bizarrely, both Meryl Streep and Jada Pinkett Smith revealed they'd been separated from their respective husbands for years and simply never mentioned it. And that's just to name a few.
But at least one celebrity couple appears to be going strong — musician Enrique Iglesias and former tennis star Anna Kournikova, who have been together for 21 years.
How Anna Kournikova and Enrique Iglesias met
The pair met in 2001 on the set of Iglesias's music video for Escape, in which Kournikova was making a cameo as the love interest.
At the time, Iglesias appeared on MTV's Making The Video, telling the show: "I've never met her before, but I'm a big fan.
"I'm sure a lot of guys want to meet her. I'm one of them. She's beautiful, talented, great tennis player, you know, and I'm sure she's going to be great in the video."
By the end of the iconic early '00s video, the soon-to-be couple had locked lips in a club bathroom, a car and a concert hall — all interspersed with some seriously of-the-era special effects.
Earlier this week, Iglesias confirmed the relationship, which they have kept famously private, was still going strong.
"[The video changed my life] in ways that I didn't even think about," he told People.
"When we met — although she came from the sports world — in a way, we kind of got each other.
"She knew what my world was like. I kind of knew what her world was like. So that understanding helped a lot.
"We just started connecting little by little and got stronger and stronger and stronger."
Anna Kournikova and Enrique Iglesias engagement rumours
The couple went public the year after they met, in 2002, when they appeared at the MTV Video Music Awards hand-in-hand.
At the time, Iglesias was a pop sensation and Kournikova, a tennis star. She had won a slew of competitions in the late 90s, mostly in doubles competitions, but would retire in 2003 due to injuries.
Engagement rumours followed in 2003, after Kournikova appeared at an exhibition tennis match wearing a huge pink diamond ring. It was even rumoured the couple had wed at a secret ceremony in Mexico.
But the whispers were quickly dispelled by representatives of the duo, who said they were neither engaged nor married.
Iglesias bantered about the rumoured wedding in an interview a few years later, but it seems the joke didn't land.
Speaking with Swedish newspaper Aftonbladet in 2007, he bizarrely said he and Kournikova had not only secretly been married, but had now also gotten a divorce.
"I am single now, but that's OK. I don't mind being alone," he said, devastating fans.
His team quickly put out a statement to confirm that Iglesias's comments were, in fact, "just a joke".
Anna Kournikova and Enrique Iglesias have no marriage plans
Jokes aside, both Kournikova and Iglesias have in later years revealed their plans to make a life together without marriage.
Speaking with reporters, Iglesias said: "I always try [to propose] but she pays me no attention."
Kournikova, meanwhile, told Peopletheir decision wasn't personal.
"I'm never getting married," she said. "Everything is good."
Iglesias reiterated the position in 2012, telling Parade: "I've never really thought [it] would make a difference.
"Maybe it's because I come from divorced parents, but I don't think you love someone more because of a piece of paper.
"Nowadays, it's not taboo to have kids and not be married. What makes a difference is that you're a good parent, period."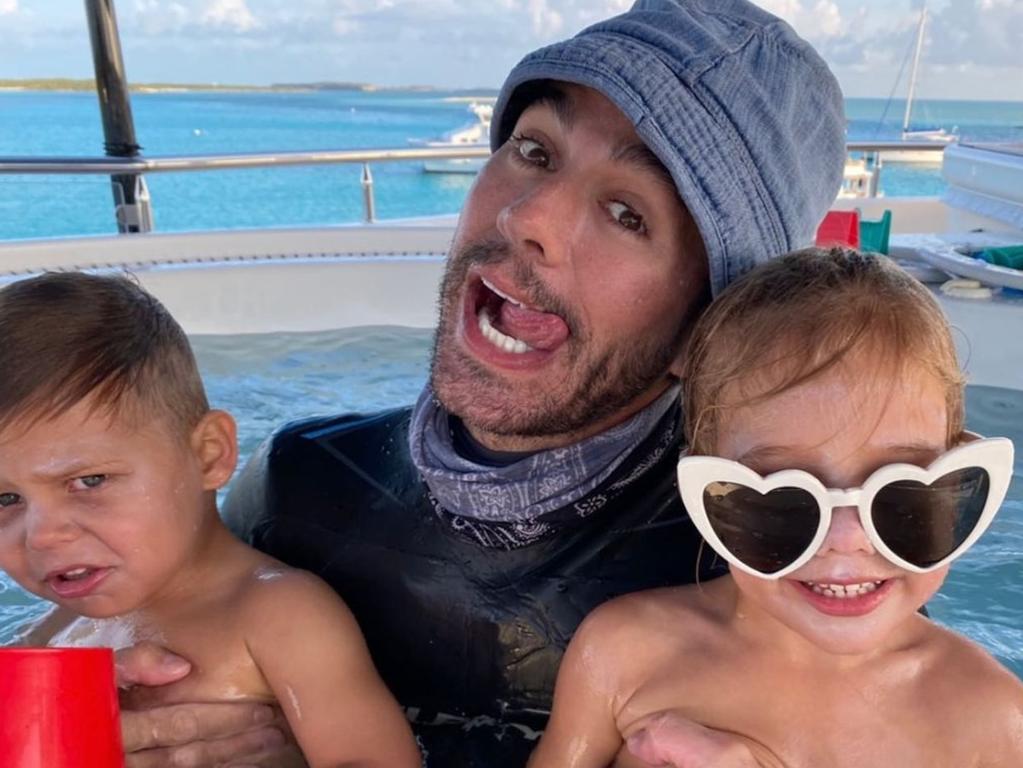 Anna Kournikova and Enrique Iglesias kids
Anna Kournikova and Enrique Iglesias mostly keep their three kids out of the spotlight.
The couple welcomed twins, Nicholas and Lucy, in 2017, followed by a third child, Mary, in 2020.
Iglesias spoke with People about life as a parent.
"You have your good times, your bad times, and if you can get through the bad times, you'll get to the really good times," he said.
"A lot of people say, 'Oh, well, I know this is the person I'm going to spend the rest of my life with.' I do kind of agree with that, but at the same time, you really never know where life is going to take you and what can happen."
And, in a full-circle moment, he revealed the kids had already watched the steamy '00s music video that threw their parents' relationship into the spotlight.
"I think my kids have already seen — well, no, I know my kids have already seen that video," Iglesias told The Jess Cagle Show in 2021.
"And they're putting two and two together. Like, 'Oh, really?'
"Whenever they hear one of my songs they can actually recognise my voice, which is pretty cool.
"But when they watch that video, I think it does throw them off a little bit. 'What is Mom doing there? With Dad? When was this?'"
"It's actually incredible to watch the expression on their faces. It's pretty cool."